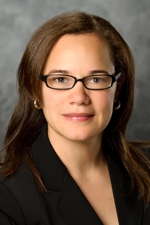 Francis Samalot grew up in Canovanas, Puerto Rico amongst the sounds of Bomba and Plena but also at a poor and often flooded community. Her single, working mother was the first in her family to pay her way through college and complete a bachelor's degree, which inspired Francis to follow in her footsteps. Francis' bachelors is in Mechanical Engineering from University of Puerto Rico, Mayaguez where she graduated Summa Cum Laude at the top 1% of the Mechanical Engineering department. She continued studies at University of Alabama at Birmingham, graduating with a Masters and Ph.D. in Material Science and Engineering. She was the first person in her close and extended family to earn a Master's and Ph.D.
Dr. Samalot is currently a Senior Composite Engineer at Boeing's Satellite Development Center. She has established herself as a world-class innovator and is listed as an inventor on four issued U.S. patents and seven pending U.S. patent applications. She is a world class composites expert with over fifteen years of experience developing applications over both commercial and military aerospace platforms at The Boeing Company. She has earned a stellar reputation for her meticulous work, solving the hard problems, and her ability to communicate complex technologies in layman terms. She consults across multiple company divisions, including the Satellite Development Center, Materials Manufacturing Technology research and commercial Product Development integration. She chairs the Structural Thermoplastic Composites Community of Practice, and has authored multiple composite design practices at Boeing.
Dr. Samalot is a technical leader with an unwavering commitment to the Hispanic/Latinx community, using her life experiences, education, and passion for engineering to inspire the next generation in STEM.
Company website: https://www.boeing.com/
Recent Boeing feature: https://onfirstup.com/boeing/BNN/contents/33358104